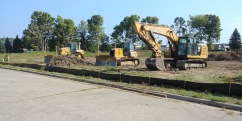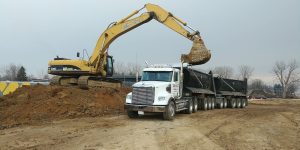 Trenchless Pipe & Manhole Repair
Leavitt & Starck Excavating, Inc. performs trenchless pipe repair and patching, along with interior manhole rehabilitation, throughout the state of Michigan.
Manholes, especially sanitary sewer manholes, deteriorate over time due to corrosion and cracking caused by gases, (particularly hydrogen sulfide) along with age.  A typical manhole repair project involves chipping out the corroded and damaged concrete, and power washing the interior surface.  This work prepares the manhole to receive a new interior surface.  Structural concrete is sprayed on to the existing manhole to create an interior lining.  After a short drying time, a coating of hydrogen sulfide gas inhibiting epoxy is sprayed on to the new lining to complete the repair.
Our short line trenchless pipe repair method consists of a cured in place pipe patch made up of a fiberglass resin-wetted mat.  First, we inspect the pipe using our sewer televising system to locate the exact location where the pipe is damaged.  Next, a renovation packer carrying the resin-wetted fiberglass mat is pushed down the pipe using air push rods to the exact location of the damage.  The packer is inflated towards the pipe wall, which presses the fiberglass mat in a tight fit against the pipe, allowing resin to penetrate the point of damage.  This creates a permanent bond between the pipe and mat.  The mat is cured as required according to the climate conditions inside the existing sewer pipe.  The packer is then deflated and removed from the pipe.  The result is a fully integrated pipe repair that does not restrict the service flow of the sewer.